The Acadia Project
The ACADIA Project (TAP) identifies refugee and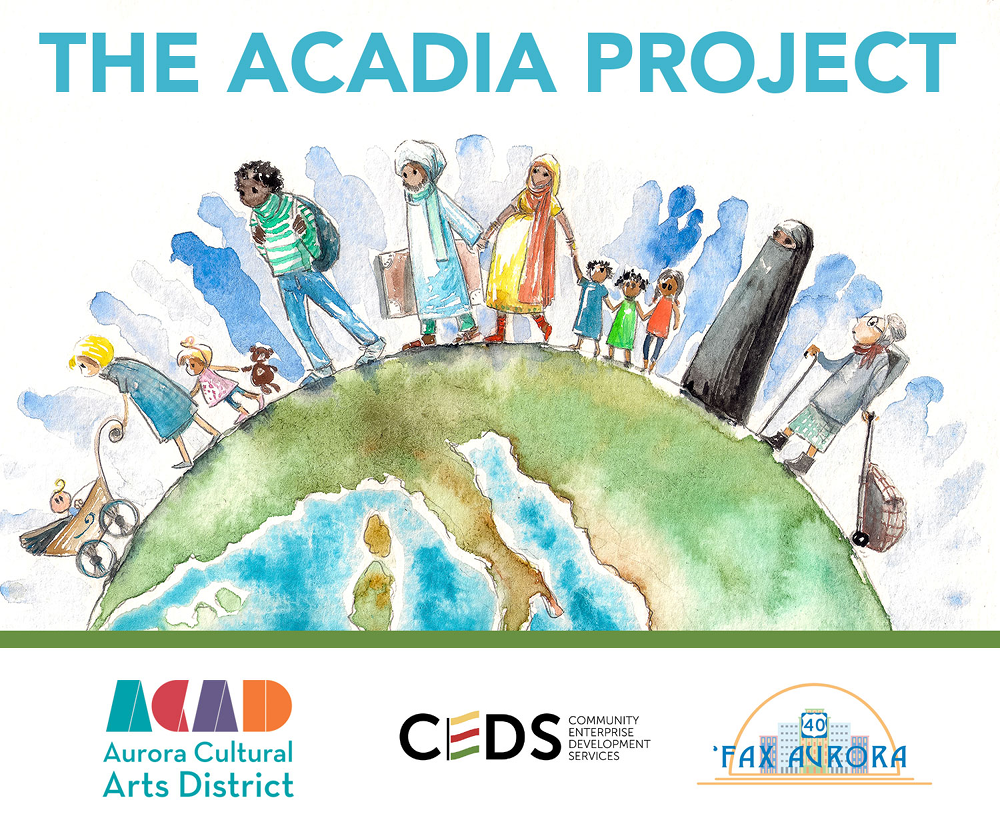 immigrant artists in Aurora and helps them build their creative businesses to market and sell their works. This program is open to artists working in the visual arts, culinary fields, makers and other creative endeavors. As part of this program artists and creatives will receive free mentoring, marketing and portfolio workshops, access to financing, display space and help presenting their work to American buyers; and the majority of program activities will be located in the Aurora Cultural Arts District, along the Colfax Corridor.
History:  The idea for the program was borne from community conversations with over 18 partners in early 2015. These groups desired more engagement with our refugee and immigrant neighbors, varied approaches to economic development and support for these groups.
Who are the Acadians?:   In 1755, Acadians (a group of French colonists living in Canada or "New France") were essentially given three choices: be deported, swear their loyalty to the King of England, or be executed. Rather than choosing, many became what could be described as the first political refugees in North America. They fled their British oppressors by sailing down the Mississippi River to a place they would name New Orleans, after the French town of Orleans, the home of Joan of Arc. The immigrants and refugees of Northwest Aurora are similar to the Acadians of the 1750's, and have found home, culture and community in Aurora.
 Partners:
The Aurora Cultural Arts District (ACAD) is a thriving, walkable and vibrant community characterized by a diverse group of creative businesses including world class performance venues, an arts education non-profit, art galleries, studios, an art incubator, public gathering spaces, multicultural restaurants and diverse businesses. The art district was created to support the existing creative locations and to foster more art venues in the neighborhood creating an amenity and outlet for both the neighborhood and surrounding communities. It also serves as an economic driver for area businesses, residents, artists and stakeholders. Started in 2009 in partnership with community champions, the City of Aurora and its neighborhood partners. ACAD brings their experience in building creative businesses and supporting local artists to TAP.
The Denver Foundation is Colorado's oldest and largest community foundation that helps people give back to Metro Denver in ways that are meaningful — to them and to the community. Since 1925, The Denver Foundation has helped generous people be catalysts for good by building charitable legacies. Their vision is a community where all residents in Metro Denver have the opportunity for a high quality of life, including but not limited to education; employment; food, clothing, and shelter; health; rich cultural offerings; safety; and the ability to give of themselves and connect with their community. The Denver Foundation provided a grant that allowed TAP to improve the lives of refugee and immigrant artists.
Fax' Aurora is a Business League for Original Aurora, made up of over 120 business owners. They have provided leadership by creating an organization that has a unified voice to tackle issues of crime, clean up and small business development, in particular on the Colfax Corridor. To ensure an equitable organization, where the voices of local business owners and residents are expressed, Fax Aurora offers free membership to small businesses. Members include many minority-owned businesses including motels, automotive, beauty services, childcare, markets, restaurants and more. 'Fax Aurora will contribute a wealth of relationships with small business owners and business experts in the target market to ensure TAP is successful.
Aurora TV Coverage:
Credit: Aurora TV
Press Release: